Meet The Modern Clock Radio
Clarity is one of the first viable Voice First appliances that utilizes a screen (link: Clarity ).  Clarity has moved a small step to the situation and ephemeral screen I know Voice First ultimately will have.  By merging a 7-inch android tablet to access to Alexa and Google Assistant, the system solves the issue of bridging the need to see some information.  Early adopters agree.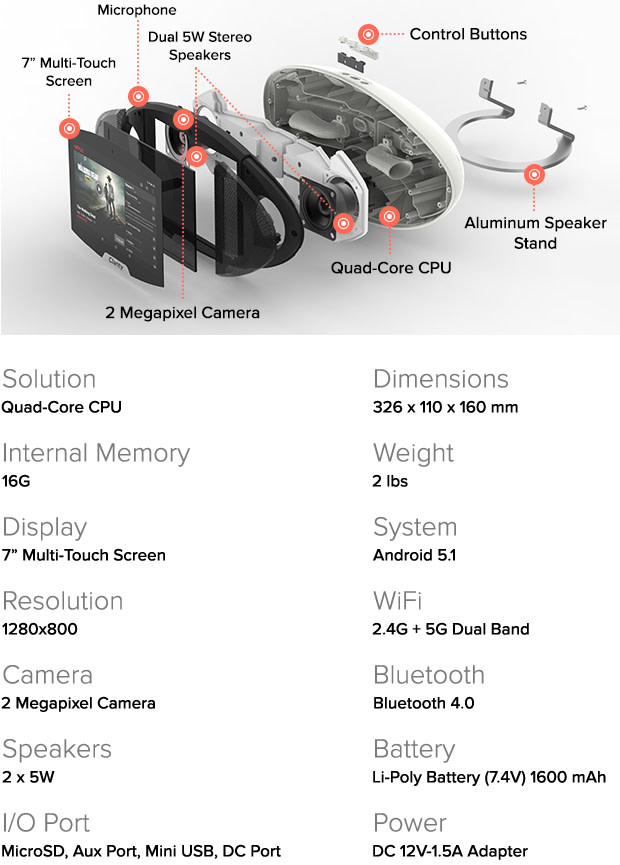 This Indiegogo project has already generated a tremendous response with over 1,660 supporters raising $226,871 at a general $149.00 price point.  The features of the system is quite impressive for the price point:
Built in Amazon Alexa (currently push to talk)
Built in OK Google
Near-field/Mid-field microphone
An Android tablet with 7-inch IPS 1280*800 display
High fidelity bass 5 watt reflex stereo speaker
Bluetooth and WiFi connected
Portable and rechargeable
When compared to typical Voice First and speaker arguments, Clarity has a significant price advantage.  By merging functionality of a tablet, speaker and Voice First system, Clarity has shifted the momentum of what is possible.
In my thesis I see a range of Voice First systems.  On the simple and most common version a screen would not be built-in but can be referred to by delivering visual information via the user's TV Screen, tablet screen, smartphone screen.  There is nothing stopping Echo and Alexa from delivering any visual results to your Fire Equipped TV or Tablet. The next level is what I call the Appliance level.  This is where Clarity fits.
The Voice First Appliance Coming Soon From Amazon And Apple
Although it is early days, it is clear that Clarity is on the way to define this new category.  There is little doubt that Amazon, Apple and others will also enter this category.   There is little doubt Amazon will release a similar system soon.
Clarity is close to the Apple-like appliance approach the company is famous for.  Apple's likely move into the Voice First sector will mirror how they entered into the MP3 player market.  At the time there were 100s of devices.  Apple leap-frogged the industry by introducing a number of shifts.  Prior to the iPod, most devices could only hold about 30 songs, with the miniature hard drive in the first iPod days worth of music could be held on the device.  In the case of Voice First devices, mediating the dialogs properly and allowing for visual information, when needed to be presented on a screen is a typical Apple challenge where the company excels.
Apple enters into the market with a reference system similar to Clarity and than expands to a screen-less version similar to Amazon's Echo system with Air Play routing visual information to iPhones, iPads, computers or Apple TVs.  Apple will use the work product from a number of acquisitions from Prime Sense to Vocal IQ which will have a camera to allow for identity verification of Real Face and emotional intent extraction from Emotient using the muscles in your face to help Siri understand you far better.  I speak to this in this Forbes article [1] and this Read Multiple article [2].
In the short term we have Clarity and at the $149 price point it is not a disposable product however it is not a huge investment no matter what Amazon or Apple creates, until than get a Clarity while you can here.  Clarity will hold it's own as other systems enter into the market as I see we will be surrounded by dozens of Voice First systems.
🔮History will show saying Apple won't make a far-field #VoiceFirst device in 2017 is like saying they won't make an MP3 player in 1999.

— Brian Roemmele (@BrianRoemmele) March 7, 2017
______
[1] 
Forbes.com
[2]
ReadMultiple.com
~—~
~—~
---

Subscribe ($99) or donate by Bitcoin.

Copy address: bc1q9dsdl4auaj80sduaex3vha880cxjzgavwut5l2

Send your receipt to Love@ReadMultiplex.com to confirm subscription.
---
---
IMPORTANT: Any reproduction, copying, or redistribution, in whole or in part, is prohibited without written permission from the publisher. Information contained herein is obtained from sources believed to be reliable, but its accuracy cannot be guaranteed. We are not financial advisors, nor do we give personalized financial advice. The opinions expressed herein are those of the publisher and are subject to change without notice. It may become outdated, and there is no obligation to update any such information. Recommendations should be made only after consulting with your advisor and only after reviewing the prospectus or financial statements of any company in question. You shouldn't make any decision based solely on what you read here. Postings here are intended for informational purposes only. The information provided here is not intended to be a substitute for professional medical advice, diagnosis, or treatment. Always seek the advice of your physician or other qualified healthcare provider with any questions you may have regarding a medical condition. Information here does not endorse any specific tests, products, procedures, opinions, or other information that may be mentioned on this site. Reliance on any information provided, employees, others appearing on this site at the invitation of this site, or other visitors to this site is solely at your own risk.
Copyright Notice:
All content on this website, including text, images, graphics, and other media, is the property of Read Multiplex or its respective owners and is protected by international copyright laws. We make every effort to ensure that all content used on this website is either original or used with proper permission and attribution when available. However, if you believe that any content on this website infringes upon your copyright, please contact us immediately using our 'Reach Out' link in the menu. We will promptly remove any infringing material upon verification of your claim. Please note that we are not responsible for any copyright infringement that may occur as a result of user-generated content or third-party links on this website. Thank you for respecting our intellectual property rights.