Get Your Free PC, Some Ads Pay For It.
It was early in 1999 and the average home computer cost over $1,000, Pasadena based Free-PC.com was ready to launch, and they already knew they had a winner.
The company set up a toll-free number–(877) FREE-PC1–for people who can't get to its Web site and the system soon became frozen with impossible demand.  By June, 1999 Free-PC announce that it has begun shipping its first 10,000 Compaq Presarios to people who agreed to share personal information in exchange for the free computer.  The first recipients were selected from more than 1.25 million applicants–including men and women of various age groups, income levels, geographic locations and family types.  Ultimately, the company hoped to give away 1 million computers.
The Pasadena startup planned to recoup the cost of the PCs, and make a profit, by selling targeted ads that run along the side of the computer's screen.  The participating advertisers include Hewlett-Packard, Citibank, CDNow, EToys and TheStreet.com.
Free-PC.com was founded by serial entrepreneur Bill Gross.  Bill started an advertising revolution just a year earlier with GoTo.com, an Idealab spin off and was the first company to successfully provide a pay-for-placement search service.
GoTo offered advertisers the option of bidding on how much they would be willing to pay to appear at the top of results in response to specific searches. The bid amount was paid by the advertiser to GoTo every time a searcher clicked on a link to the advertiser's website. By July 1998, advertisers were paying anything up to a dollar per click. In June 1999, GoTo launched a tool set direct traffic centre to enable advertisers access to keywords and real time bidding.
If this all sounds familiar it should, the Google Pay Per Click advertising model was copied from GoTo.  Prior to GoTo banner advertising was sold by impressions at a fixed rate similar to newspaper and magazine advertising.  The bidding built by Google allowed the company to become the powerhouse they are today.
With Free-PC.com it is clear users knew some form of marketing would be at play and willingly signed up.  The demand was initially very high until users began to notice the true impact to the experience.  The experience was dreadful as dialup 14.4 modems buckled under the load of ad banners, pop ups and other intrusive insertions into the early web experience.  Users still waited in line but demand flattened as PC prices bottomed.  Advertisers also began to lose interest as some people even resorted to putting tape over their monitor to block the regular banner ad at the top. By the Dot.com bust the company shut down the service and few noticed.
~—~
~—~
Connecting The Dots
Advertising and hardware go back in history but the connection of GOTO and Free-PC.com are very relevant and informs the Voice First world. Today March 16th, 2017 Google officially tested a monetization system on the Google Home and Google Assistant platform. It was an advertisement for the Disney Movie stating "Disney's live action Beauty and The Beast opens today, In this version of the story, Belle is the inventor instead of Maurice. That rings truer if you ask me. For some more movie fun, ask me something about Belle."
The ad, or what Google calls "sharing" took place when the user said "Good morning" or "What's my day look like" or similar phraseology.  As I presented in my 1989 Voice Manifesto and many articles,  the concept of a system based universal adverting system would be repugnant to a vast majority of users.  This test confirmed the accuracy today as the internet exploded with outrage.  Twitter has Google Home trending with over 11,000 negative tweets by 6pm.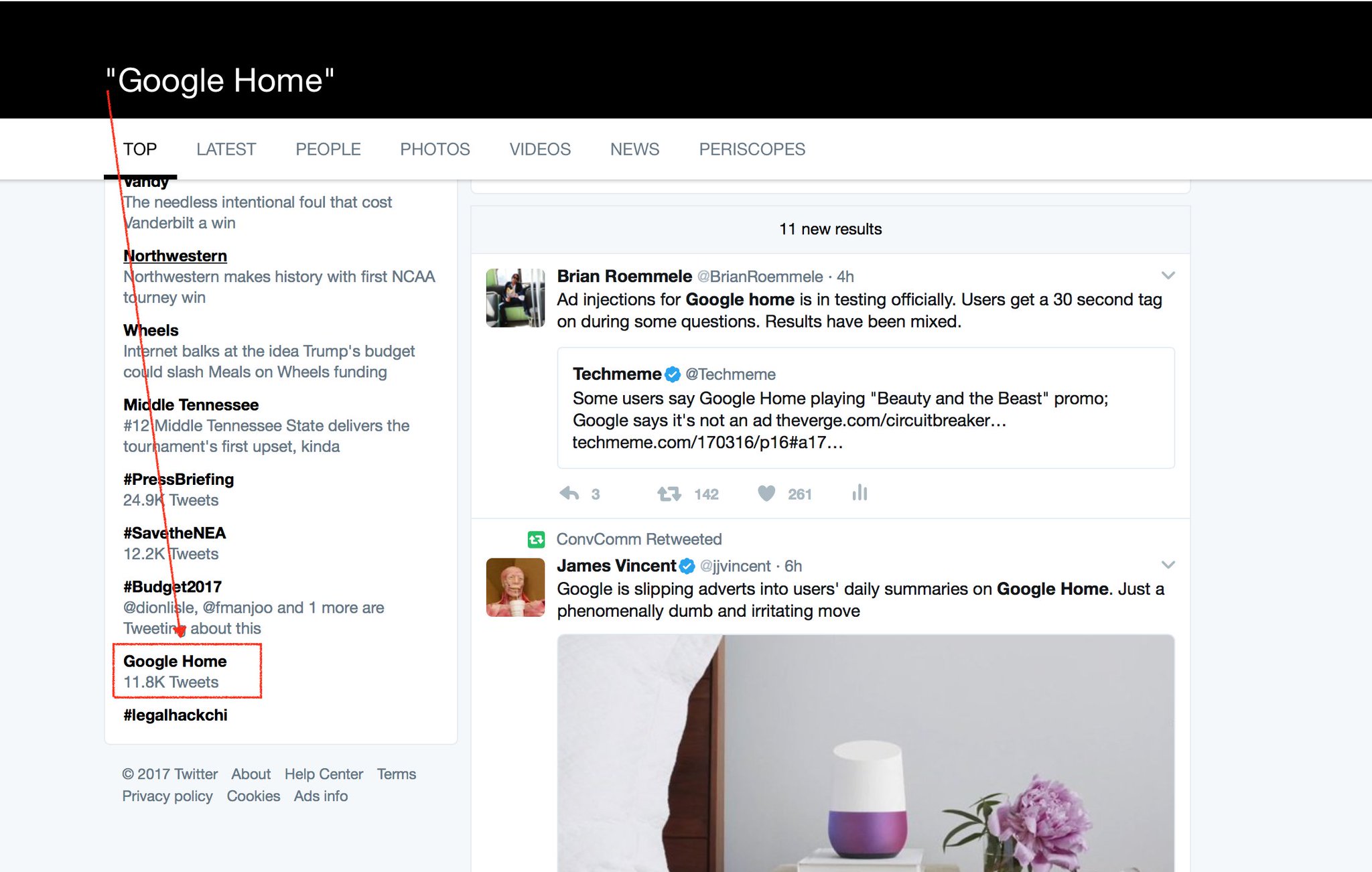 Ironic how similar issues in advertising played out over a quarter century ago informs the new Voice First revolution.  Although Amazon was very successful in injecting advertising on a subsidized version of the Kindle eBook reader, this was a far less interference into the use case.
Injecting any form of direct advertising into the base system functions of a Voice OS will statically always be met with the same response history has demonstrated in the past.  And thus it was not surprising to observe the rebellion from Google Home users and observers.
Simply put, the bandwidth of a Voice First device is the Voice.  Anything presented takes over the entire channel of the bandwidth.  It is equivalent to taking over the entire screen of a computer or device with 30 seconds of lock out.  At the root OS level this not only annoys but signals anger. And today with just a wee bit of a pinky toe in the water Google empirically discovered something I understood before GoTo and Free-PC.com was thought of.
I have surfaced over 50 modalities for monetization of Voice First systems.  General advertising in the manner Google presented, even when targeted correctly, will cause the response we saw today.  I wrote an article in Forbes that addressed this quagmire for Google in 2016 [1].
Now, one could argue that perhaps a Voice First device would be free like Free-PC.com. Perhaps, but not as an ad delivery system. Why? The same reasons Free-PC.com failed, the prices collapsed and users found out that even for free, these systems produce intolerable experiences.
There are some ways to subsidize free Voice First systems. I presented in 2015 that Amazon could give a $39.95 Echo Dot to all Prime users as it increase Prime usage by over $150.
I spoke to Voice First monetization in issue number 1 and more directly issue number 2 of Multiplex Magazine, Subscribe in the app.
There are many ways to monetize, but we now can confirm the way Google just tested, is clearly not one of them.  It is early days and testing is a good thing and much to Google's credit they have stopped the test because of the outrage.  Lesson learned.
_____
[1] 
https://www.forbes.com/sites/quora/2016/12/05/voice-first-technology-is-about-to-kill-advertising-as-we-know-it/
~—~
~—~
---

Subscribe ($99) or donate by Bitcoin.

Copy address: bc1q9dsdl4auaj80sduaex3vha880cxjzgavwut5l2

Send your receipt to Love@ReadMultiplex.com to confirm subscription.
---
---
IMPORTANT: Any reproduction, copying, or redistribution, in whole or in part, is prohibited without written permission from the publisher. Information contained herein is obtained from sources believed to be reliable, but its accuracy cannot be guaranteed. We are not financial advisors, nor do we give personalized financial advice. The opinions expressed herein are those of the publisher and are subject to change without notice. It may become outdated, and there is no obligation to update any such information. Recommendations should be made only after consulting with your advisor and only after reviewing the prospectus or financial statements of any company in question. You shouldn't make any decision based solely on what you read here. Postings here are intended for informational purposes only. The information provided here is not intended to be a substitute for professional medical advice, diagnosis, or treatment. Always seek the advice of your physician or other qualified healthcare provider with any questions you may have regarding a medical condition. Information here does not endorse any specific tests, products, procedures, opinions, or other information that may be mentioned on this site. Reliance on any information provided, employees, others appearing on this site at the invitation of this site, or other visitors to this site is solely at your own risk.
Copyright Notice:
All content on this website, including text, images, graphics, and other media, is the property of Read Multiplex or its respective owners and is protected by international copyright laws. We make every effort to ensure that all content used on this website is either original or used with proper permission and attribution when available. However, if you believe that any content on this website infringes upon your copyright, please contact us immediately using our 'Reach Out' link in the menu. We will promptly remove any infringing material upon verification of your claim. Please note that we are not responsible for any copyright infringement that may occur as a result of user-generated content or third-party links on this website. Thank you for respecting our intellectual property rights.